Suryan FM
Favorite
Share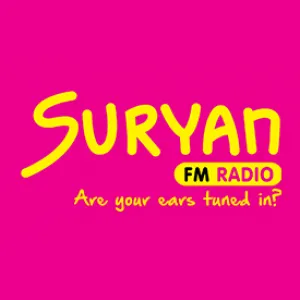 It has become our second nature to occupy the first slot in whatever we do. SunTV Network's foray into FM radio is no exception either. Tamil's first private FM stations - Suryan FM - from Chennai, Coimbatore and Tirunelveli are way ahead to its competitors and not to mention the success of SFM , the first private Telugu FM radio station in Andhra Pradesh. Independent audience research conducted by internationally renowned agency A.C.Nielson puts Suryan FM much beyond competition.

The top slot is a result of a carefully planned thoroughly enjoyable, round-the-clock, wholesome entertainment-oriented package. The interactive element will encourage everyone to make their own broadcasting. There will be substantial localization of content to retain the regional flavour. The Frequency Modulation broadcasting will be through state-of-art, high power transmitters to provide fine aural output. In order to maintain tonal fidelity and sound clarity, Suryan FM has bid good bye to playing tapes and compact discs. The entire programme will be digitized and broadcast from a sensitive computer server, eliminating sound impurities and disturbances totally.

The reach of Suryan FM stations is more than a 120 Km radius thereby providing high quality entertainment for most of the neighbouring districts. The Coimbatore station will cover four districts- Coimbatore, Nilgiris, Erode and Salem- in Tamil Nadu and three districts- Palakad & Waynad in Kerala. The reach of the Tirunelveli station will include Tirunelveli, Nagerkoil, Tuticorin and Virudunagar in Tamil Nadu and Thiruvanathapuram and Kollam districts of Kerala. Chennai will reach out to Kanchipuram and Thiruvallur, Vellore, Tiruvannamalai and Villupuram as well as the Union Territory of Pondicherry.
So tune in at 93.5 Mhz for Suryan FM stations - Chennai, Coimbatore, Tirunelveli, Madurai, Tuticorin, Pondicherry & Tiruchy, 93.5 Mhz for SFM station - Vishakapatinam, Bangalore, Hyderabad, Jaipur, Bhubaneshwar, Tirupati, Lucknow, Bhopal, Kozhikode, Indore, Vijayawada, Varanasi, Rajahmundry, Kanpur, Thiruvananthapuram, Thrissur, Mangalore, Kannur, Allahabad, Jabalpur, Mysore, Guwahati, Jamshedpur, Nasik, Vadodara, Rajkot, Aurangabad, Ahmedabad, Warangal, Nagpur, Kochi, Gulbarga, Asansol, Shillong, Pune & Siliguri.

+91(0)442431818
4, Norton Road,, Mandaveli, Chennai-28, TamilNadu, India., 044-24648181
https://www.suryanfm.in/
update station